Study the Bible on Your Android Mobile, Tablet or Chromebook

Read the bible and refer to commentaries wherever you are.

And Bible is an open source, offline, totally free Bible application with no advertisements to enable as many people in all countries to read, listen to, and study Scripture as easily as possible and with the greatest personal blessing.
Key features:
Bibles, Commentaries, Theological Dictionaries, Maps, and Christian books in over 700 languages
Off-line for everything after initial download including search, notes, commentaries, etc.
Interface in Chinese, Russian, German, French, Hungarian, Czech, Polish, Hebrew, Hindi, ...
Various Bible reading plans
Totally free, no ads, no e-mails
Over 40 English Bibles including KJV and NET (ESV used to be here too, and we are figuring out how we could get it back)
29 Bible commentaries
Extensive dictionary and Christian book collection
All documents legally distributed (the reason documents like NKJV and NIV are not available)
Strong's integration allows Greek and Hebrew word analysis
Split screen
Write personal notes
Select any interface language from a list of over 25
Flexible search
Bookmarks
Maps of the bible lands
Listen to any document read out for you
Automatic scrolling, automatic day/night mode
Compare all Bible translations on a single screen
One of the fastest Bible apps on Android
Open source - improve or change the code if you like
Uses the powerful JSword engine from CrossWire
We are all volunteers; we don't send out nagging e-mails; don't display annoying advertisements; never ask for or receive donations; don't ask for registration; And Bible does not collect any data from your mobile.
This bible downloads bible documents and uses software from the CrossWire web-site.
The provenance of all documents is thoroughly researched to ensure all documents can be legally distributed or permission has been granted by the copyright holder. That is also the reason And Bible can not contain documents like NIV and NKJV.
Tutorial videos
Screenshots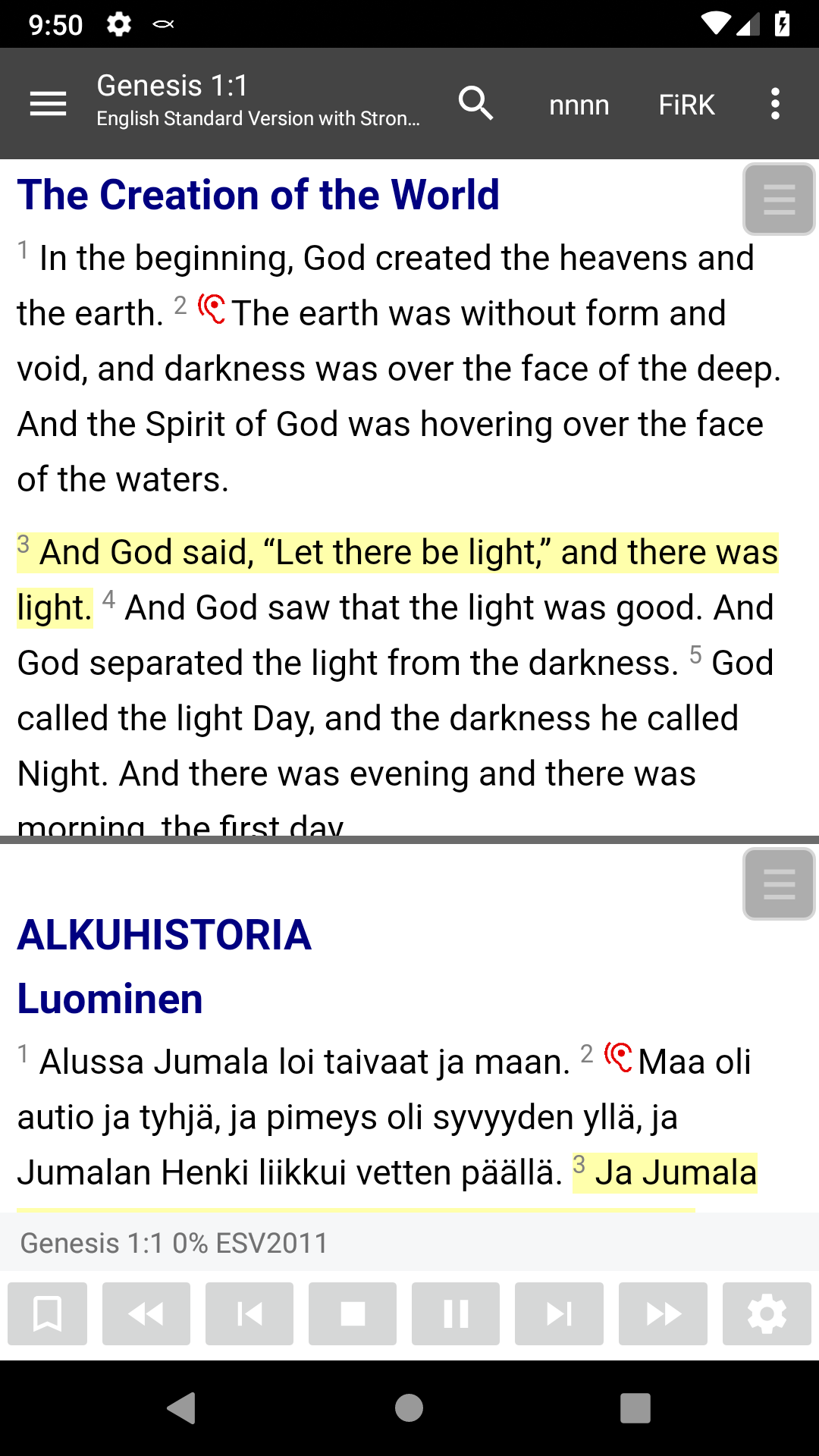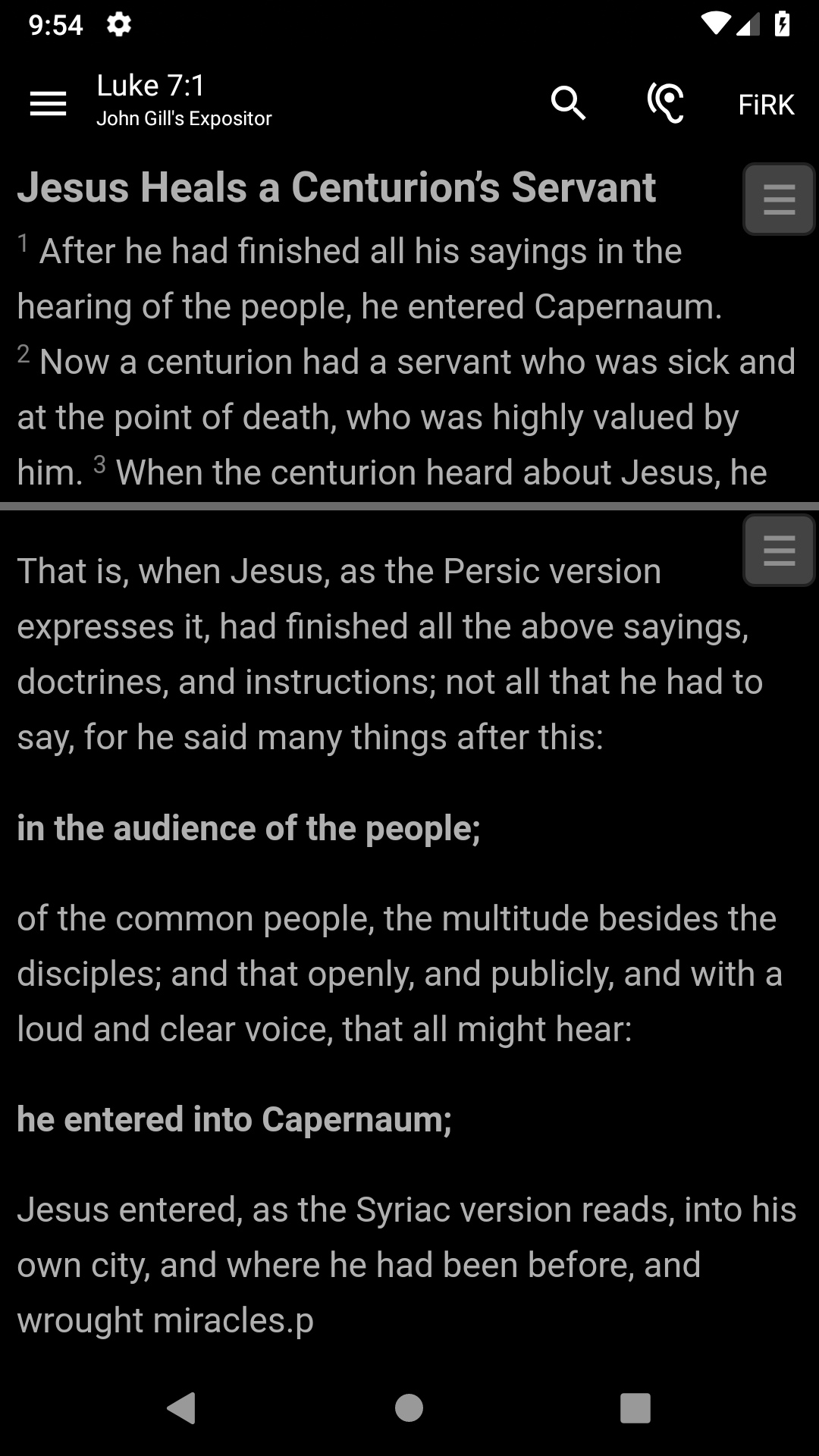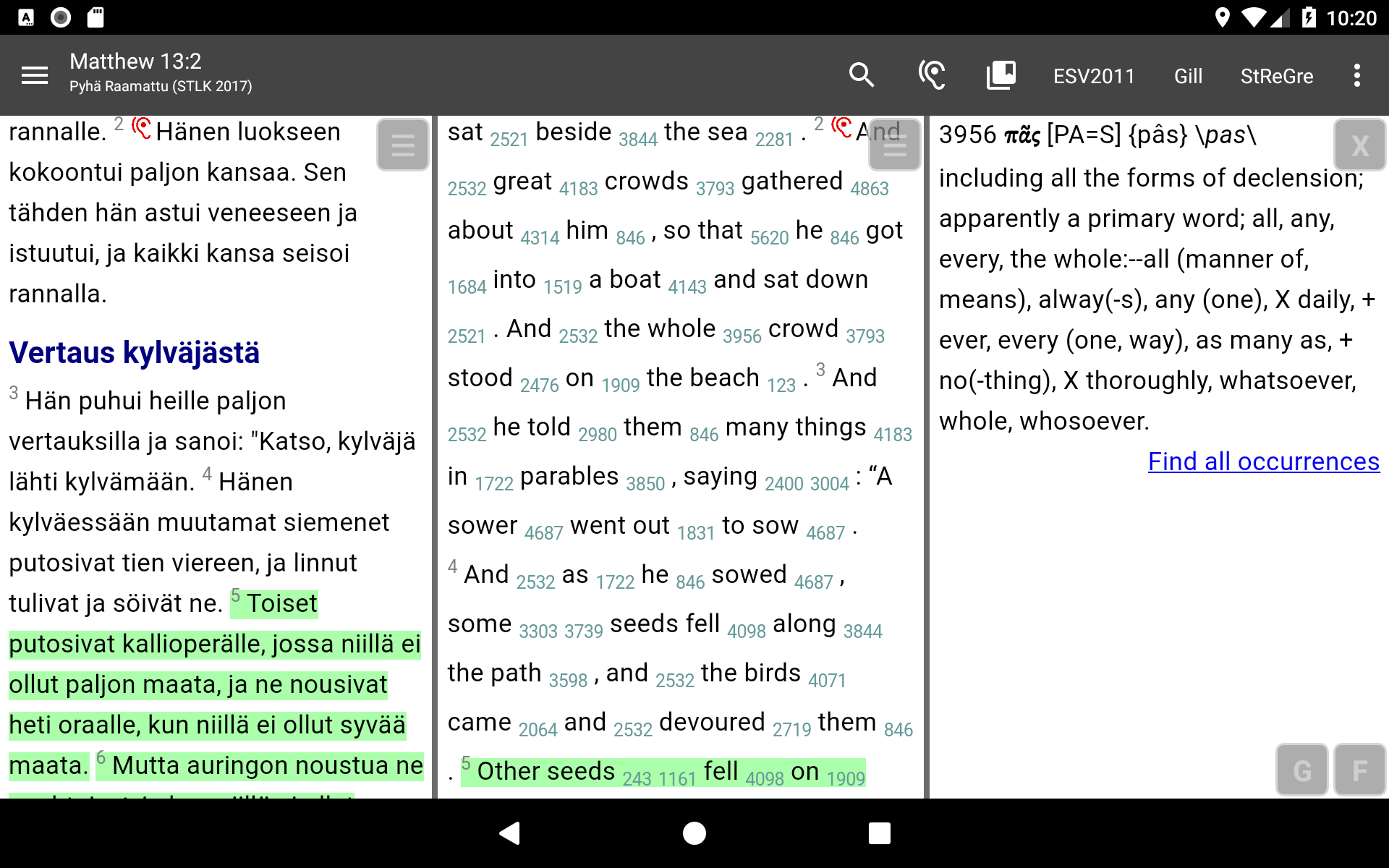 Installation

The easiest way is to download from Google Play Store or Amazon or F-Droid. You may also download APK file from Github releases page and install it manually to your phone.
Getting Help

There are many notes, including an FAQ, on the wiki.

The And Bible Discussion Group allows you to ask questions or discuss And Bible features.

Alternatively e-mail help.andbible@gmail.com
Helping
Translation of user interfaces:

If you would like to contribute a new translation or update an existing translation it is easier now than ever before. We use a simple translation tool named Transifex. To get started, please see our Wiki page for translators.
Suggest features and discuss current feature plans
User experience is important for us. You can be involved in future development by contributing to the feature planning in Github Issue Tracker. You may submit new feature requests or comment on currently planned features.
Bugs:

If you find a problem then please report it in the And Bible Issue Tracker. If you can analyze, debug or even conribute a fix that would be even better.
Enhancements:

Code enhancements are welcome for review and possible inclusion in the next build. Please email And Bible Support to discuss development work you are considering.